About Us
China One is a Chinese takeaway in Wishaw. Why don't you try our Chicken or King Prawn Crispy Noodle?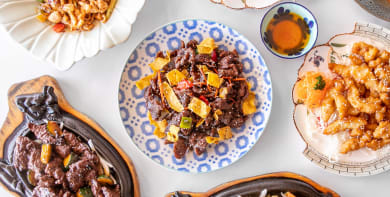 Reviews
171 reviews
Amy
"Amazing as always"
18/09/2020
Meloney
"Love the curry from here 1 of the best thanks"
05/09/2020
Joy
"Best Chinese in Wishaw"
29/08/2020
Robert
"Nice meal get it from them again"
29/08/2020
Menu
Sweet & Sour Chicken Cantonese Style
Sweet & Sour Chicken in Batter
Sweet & Sour King Prawn Cantonese Style
Sweet & Sour King Prawn in Batter
Sweet & Sour Pork Cantonese Style
Sweet & Sour Pork in Batter
Sweet & Sour Special Cantonese Style
King Prawn Cantonese Style
King Prawn With Bamboo Shoots & Water Chestnuts
King Prawn With Cashew Nuts
King Prawn With Ginger & Spring Onion
King Prawn With Gravy Sauce
King Prawn With Green Pepper & Black Bean Sauce
King Prawn With Mushroom & Black Bean Sauce
King Prawn With Oyster Sauce
King Prawn With Sweetcorn
Beef With Bamboo Shoots & Water Chestnuts
Beef With Ginger & Spring Onion
Beef With Green Pepper & Black Bean Sauce
Beef With Mushroom & Black Bean Sauce
Chicken With Bamboo Shoots & Water Chestnuts
Chicken With Bean Sprouts
Chicken With Black Pepper
Chicken With Ginger & Spring Onion
Chicken With Green Pepper & Black Bean Sauce
Chicken With Mushroom & Black Bean Sauce
Chicken With Oyster Sauce
Chicken With Peking Sauce
Vegetarian Hot & Sour Soup
£2.60
Sweet & Sour Chicken Meal Box
£5.00
Sweet & Sour Pork Meal Box
£5.00
Chicken Chop Suey Meal Box
£5.00
Set Meal A for Two
Choice of any soup x 2
Choice of any one starter (excludes mixed starter & crispy aromatic duck)
Choice of one chicken dish
Choice of one beef dish
Fried rice x 2
Prawn crackers
Banana fritter in syrup
£20.00
Set Meal B for Three
Choice of any soup x 3
Choice of any one starter (excludes mixed starter & crispy aromatic duck)
Choice of one chicken dish
Choice of one beef dish
Choice of one king prawn dish
Fried rice x 3
Prawn crackers
Banana fritter in syrup
£27.00
Duck with Bamboo Shoots & Water Chestnuts
£6.90
Duck with Ginger & Spring Onion
£6.90
Duck with Green Pepper & Black Bean Sauce
£6.90
Duck with Mushroom & Black Bean Sauce
£6.90
Chicken with Bamboo Shoots & Water Chestnuts
£6.30
Chicken with Bean Sprouts
£6.30
Chicken with Black Pepper
£6.30
Chicken with Ginger & Spring Onion
£6.30
Chicken with Green Pepper & Black Bean Sauce
£6.30
Chicken with Mushroom & Black Bean Sauce
£6.30
Chicken with Oyster Sauce
£6.30
Chicken with Peking Sauce
£6.50
Beef with Mushroom & Black Bean Sauce
£6.40
Beef with Bamboo Shoots & Water Chestnuts
£6.40
Beef with Ginger & Spring Onion
£6.40
Beef with Green Pepper & Black Bean Sauce
£6.40
Chicken Thai Panang Curry
£6.40
Char Siu Thai Green Curry
£6.40
Char Siu Thai Panang Curry
£6.40
King Prawn Thai Green Curry
£6.80
King Prawn Thai Panang Curry
£6.40
King Prawn Thai Red Curry
£6.80
Special Thai Panang Curry
£6.40
Char Siu with Mushroom & Black Bean Sauce
£6.30
Char Siu with Oyster Sauce
£6.30
Char Siu with Bamboo Shoots & Water Chestnuts
£6.30
Char Siu with Bean Sprouts
£6.30
Char Siu with Black Pepper
£6.30
Char Siu with Cashew Nuts
£6.30
Char Siu with Ginger & Spring Onion
£6.30
Char Siu with Gravy Sauce
£6.30
Char Siu with Green Pepper & Black Bean Sauce
£6.30
Singapore Vegetable Chow Mein
£6.30
Mixed Vegetable Chow Mein
£5.70
King Prawn with Bamboo Shoots & Water Chestnuts
£6.80
King Prawn with Cashew Nuts
£6.80
King Prawn with Ginger & Spring Onion
£6.80
King Prawn with Gravy Sauce
£6.80
King Prawn with Green Pepper & Black Bean Sauce
£6.80
King Prawn Cantonese Style
£6.80
King Prawn with Mushroom & Black Bean Sauce
£6.80
King Prawn with Oyster Sauce
£6.80
King Prawn with Sweetcorn
£6.80
Mixed Vegetable with Black Bean Sauce
£5.30
Mixed Vegetable with Kung Po Sauce
£5.30
Mixed Vegetable with Oyster Sauce
£5.30
Mixed Vegetable with Satay Sauce
£5.30
Mixed Vegetable with Sweet & Sour Sauce
£5.30
Mixed Vegetable with Szechuan Sauce
£5.30
Roast Chicken
With gravy, mushroom & onion
£6.60
Sirloin Steak
With gravy, mushroom & onion
£9.00
Chips with Sauce
Choice of sauce: curry, sweet & sour OR gravy
Onion 20p extra
Mushroom 30p extra
£3.40
Rice & Chips with Sauce
Choice of sauce: curry, sweet & sour OR gravy
Onion 20p extra
Mushroom 30p extra
£3.60
Rice with Sauce
Choice of sauce: curry, sweet & sour OR gravy
Onion 20p extra
Mushroom 30p extra
£3.40
Pineapple Fritter in Syrup
£2.40
Happy Meal
Chicken & sweetcorn soup OR chicken noodle soup
Choose any one starter: BBQ spare ribs OR chicken balls OR chicken wings OR spring roll
Curry dish OR sweet & sour dish
Fried rice
Extra person available
£8.50
Chicken with Honey Chilli Sauce
£6.50
Crispy Shredded Beef with Honey Chilli Sauce
£6.50
Char Siu with Honey Chilli Sauce
£6.50
Beef with Honey Chilli Sauce
£6.50
King Prawn with Honey Chilli sauce
£6.80
Crispy Shredded Chicken with Honey Chilli Sauce
£6.50
Mixed Vegetable Fried Rice
£5.70
Singapore Vegetable Fried Rice
£6.30
Special Sweet & Sour Cantonese Style
£6.80
Sweet & Sour Chicken Cantonese Style
£6.40
Sweet & Sour Chicken in Batter
£6.40
Sweet & Sour King Prawn Cantonese Style
£6.80
Sweet & Sour King Prawn in Batter
£6.80
Sweet & Sour Pork Cantonese Style
£6.40
Sweet & Sour Pork in Batter
£6.40
Curry Rice Roll (1)
Rice, shredded BBQ pork, shredded ham, shredded chicken with curry sauce
£2.90
Mini Vegetable Spring Roll (10)
£3.10
Mixed Starter
BBQ ribs, satay chicken on skewers, deep fried wonton, mini spring roll
£7.30
Salt & Pepper King Prawn (8)
£5.40
Salt & Pepper Shredded Beef
£4.40
Salt & Pepper Shredded Chicken
£4.40
Salt & Pepper Shredded Duck
£5.00
Salt & Pepper Spare Ribs
Long tray
£5.40
Satay Chicken on Skewers (4)
£4.40
Salt & Chilli Munchies Box
Ribs, chicken wings, chicken balls, chips, shredded chicken, mini spring roll with curry OR gravy OR sweet & sour sauce
£15.00
Spare Ribs with BBQ Sauce
Long tray
£5.40
Spare Ribs with Peking Sauce
Long tray
£5.40
Spare Ribs with Sweet & Sour Sauce
Long tray
£5.40
Spare Ribs with Syrup
Long tray
£5.40
Sesame Prawn on Toast (6)
£3.90
Salt & Pepper Chicken Balls (10)
£5.20
Salt & Pepper Chicken Wings
£4.40
Crispy Aromatic Duck Half
£16.00
Crispy Aromatic Duck Quarter
£9.00
Crispy Aromatic Duck Whole
£28.00
Crispy Chicken Balls (10)
£4.60
Chicken Wings with BBQ Sauce
£4.40
Chicken Wings with Honey & Chilli Sauce
£4.40
Chicken Wings with Peking Sauce
£4.40
Special Curry
Beef, king prawn, char siu, chicken & onion
£6.80
Contact Us
Find Us
33c Glasgow Road, Wishaw, ML27PG