About Us
China One is a Chinese takeaway in Wishaw. Why don't you try our Chicken or King Prawn Crispy Noodle?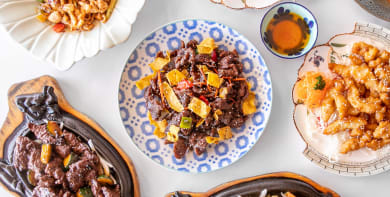 Reviews
161 reviews
Peter
"Got set meal for two and pleasantly surprised. Did was amazing and great value for money as you certainly get a lot for your money. Highly recommended"
18/10/2020
David
"1st time user, great food and great service."
14/10/2020
Graeme
"The best Chinese in the area by 100 miles, food is always top drawer and the delivery speed is so fast its amazing. Give it a go you won't be disappointed"
09/10/2020
Ian
"5 star food"
05/10/2020
Menu
Sweet & Sour Chicken Cantonese Style
Sweet & Sour Chicken in Batter
Sweet & Sour King Prawn Cantonese Style
Sweet & Sour King Prawn in Batter
Sweet & Sour Pork Cantonese Style
Sweet & Sour Pork in Batter
Sweet & Sour Special Cantonese Style
King Prawn Cantonese Style
King Prawn With Bamboo Shoots & Water Chestnuts
King Prawn With Cashew Nuts
King Prawn With Ginger & Spring Onion
King Prawn With Gravy Sauce
King Prawn With Green Pepper & Black Bean Sauce
King Prawn With Mushroom & Black Bean Sauce
King Prawn With Oyster Sauce
King Prawn With Sweetcorn
Beef With Bamboo Shoots & Water Chestnuts
Beef With Ginger & Spring Onion
Beef With Green Pepper & Black Bean Sauce
Beef With Mushroom & Black Bean Sauce
Chicken With Bamboo Shoots & Water Chestnuts
Chicken With Bean Sprouts
Chicken With Black Pepper
Chicken With Ginger & Spring Onion
Chicken With Green Pepper & Black Bean Sauce
Chicken With Mushroom & Black Bean Sauce
Chicken With Oyster Sauce
Chicken With Peking Sauce
Vegetarian Hot & Sour Soup
£2.60
Sweet & Sour Chicken Meal Box
£5.00
Sweet & Sour Pork Meal Box
£5.00
Chicken Chop Suey Meal Box
£5.00
Set Meal A for Two
Choice of any soup x 2
Choice of any one starter (excludes mixed starter & crispy aromatic duck)
Choice of one chicken dish
Choice of one beef dish
Fried rice x 2
Prawn crackers
Banana fritter in syrup
£20.00
Set Meal B for Three
Choice of any soup x 3
Choice of any one starter (excludes mixed starter & crispy aromatic duck)
Choice of one chicken dish
Choice of one beef dish
Choice of one king prawn dish
Fried rice x 3
Prawn crackers
Banana fritter in syrup
£27.00
Duck with Bamboo Shoots & Water Chestnuts
£6.90
Duck with Ginger & Spring Onion
£6.90
Duck with Green Pepper & Black Bean Sauce
£6.90
Duck with Mushroom & Black Bean Sauce
£6.90
Chicken with Bamboo Shoots & Water Chestnuts
£6.30
Chicken with Bean Sprouts
£6.30
Chicken with Black Pepper
£6.30
Chicken with Ginger & Spring Onion
£6.30
Chicken with Green Pepper & Black Bean Sauce
£6.30
Chicken with Mushroom & Black Bean Sauce
£6.30
Chicken with Oyster Sauce
£6.30
Chicken with Peking Sauce
£6.50
Beef with Mushroom & Black Bean Sauce
£6.40
Beef with Bamboo Shoots & Water Chestnuts
£6.40
Beef with Ginger & Spring Onion
£6.40
Beef with Green Pepper & Black Bean Sauce
£6.40
Chicken Thai Panang Curry
£6.40
Char Siu Thai Green Curry
£6.40
Char Siu Thai Panang Curry
£6.40
King Prawn Thai Green Curry
£6.80
King Prawn Thai Panang Curry
£6.40
King Prawn Thai Red Curry
£6.80
Special Thai Panang Curry
£6.40
Char Siu with Mushroom & Black Bean Sauce
£6.30
Char Siu with Oyster Sauce
£6.30
Char Siu with Bamboo Shoots & Water Chestnuts
£6.30
Char Siu with Bean Sprouts
£6.30
Char Siu with Black Pepper
£6.30
Char Siu with Cashew Nuts
£6.30
Char Siu with Ginger & Spring Onion
£6.30
Char Siu with Gravy Sauce
£6.30
Char Siu with Green Pepper & Black Bean Sauce
£6.30
Singapore Vegetable Chow Mein
£6.30
Mixed Vegetable Chow Mein
£5.70
King Prawn with Bamboo Shoots & Water Chestnuts
£6.80
King Prawn with Cashew Nuts
£6.80
King Prawn with Ginger & Spring Onion
£6.80
King Prawn with Gravy Sauce
£6.80
King Prawn with Green Pepper & Black Bean Sauce
£6.80
King Prawn Cantonese Style
£6.80
King Prawn with Mushroom & Black Bean Sauce
£6.80
King Prawn with Oyster Sauce
£6.80
King Prawn with Sweetcorn
£6.80
Mixed Vegetable with Black Bean Sauce
£5.30
Mixed Vegetable with Kung Po Sauce
£5.30
Mixed Vegetable with Oyster Sauce
£5.30
Mixed Vegetable with Satay Sauce
£5.30
Mixed Vegetable with Sweet & Sour Sauce
£5.30
Mixed Vegetable with Szechuan Sauce
£5.30
Roast Chicken
With gravy, mushroom & onion
£6.60
Sirloin Steak
With gravy, mushroom & onion
£9.00
Chips with Sauce
Choice of sauce: curry, sweet & sour OR gravy
Onion 20p extra
Mushroom 30p extra
£3.40
Rice & Chips with Sauce
Choice of sauce: curry, sweet & sour OR gravy
Onion 20p extra
Mushroom 30p extra
£3.60
Rice with Sauce
Choice of sauce: curry, sweet & sour OR gravy
Onion 20p extra
Mushroom 30p extra
£3.40
Pineapple Fritter in Syrup
£2.40
Happy Meal
Chicken & sweetcorn soup OR chicken noodle soup
Choose any one starter: BBQ spare ribs OR chicken balls OR chicken wings OR spring roll
Curry dish OR sweet & sour dish
Fried rice
Extra person available
£8.50
Chicken with Honey Chilli Sauce
£6.50
Crispy Shredded Beef with Honey Chilli Sauce
£6.50
Char Siu with Honey Chilli Sauce
£6.50
Beef with Honey Chilli Sauce
£6.50
King Prawn with Honey Chilli sauce
£6.80
Crispy Shredded Chicken with Honey Chilli Sauce
£6.50
Mixed Vegetable Fried Rice
£5.70
Singapore Vegetable Fried Rice
£6.30
Special Sweet & Sour Cantonese Style
£6.80
Sweet & Sour Chicken Cantonese Style
£6.40
Sweet & Sour Chicken in Batter
£6.40
Sweet & Sour King Prawn Cantonese Style
£6.80
Sweet & Sour King Prawn in Batter
£6.80
Sweet & Sour Pork Cantonese Style
£6.40
Sweet & Sour Pork in Batter
£6.40
Curry Rice Roll (1)
Rice, shredded BBQ pork, shredded ham, shredded chicken with curry sauce
£2.90
Mini Vegetable Spring Roll (10)
£3.10
Mixed Starter
BBQ ribs, satay chicken on skewers, deep fried wonton, mini spring roll
£7.30
Salt & Pepper King Prawn (8)
£5.40
Salt & Pepper Shredded Beef
£4.40
Salt & Pepper Shredded Chicken
£4.40
Salt & Pepper Shredded Duck
£5.00
Salt & Pepper Spare Ribs
Long tray
£5.40
Satay Chicken on Skewers (4)
£4.40
Salt & Chilli Munchies Box
Ribs, chicken wings, chicken balls, chips, shredded chicken, mini spring roll with curry OR gravy OR sweet & sour sauce
£15.00
Spare Ribs with BBQ Sauce
Long tray
£5.40
Spare Ribs with Peking Sauce
Long tray
£5.40
Spare Ribs with Sweet & Sour Sauce
Long tray
£5.40
Spare Ribs with Syrup
Long tray
£5.40
Sesame Prawn on Toast (6)
£3.90
Salt & Pepper Chicken Balls (10)
£5.20
Salt & Pepper Chicken Wings
£4.40
Crispy Aromatic Duck Half
£16.00
Crispy Aromatic Duck Quarter
£9.00
Crispy Aromatic Duck Whole
£28.00
Crispy Chicken Balls (10)
£4.60
Chicken Wings with BBQ Sauce
£4.40
Chicken Wings with Honey & Chilli Sauce
£4.40
Chicken Wings with Peking Sauce
£4.40
Special Curry
Beef, king prawn, char siu, chicken & onion
£6.80
Contact Us
Find Us
33c Glasgow Road, Wishaw, ML27PG